Dr. Jomi Banjo
Image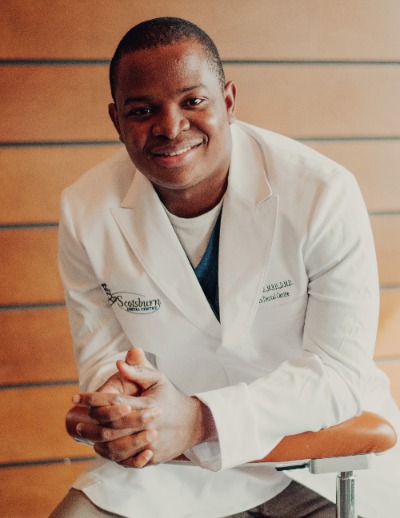 I was born in Lagos, Nigeria, I obtained a bachelor degree in Dental surgery (BDS) from the prestigious University of Lagos, Nigeria, graduating as a silver scholar in 2012. I worked as a general dentist in underserved communities for a few years. Due to this interest in improving access to health care in said underserved communities, I went on to pursue a masters degree in public health (MPh) from the University of Saskatchewan in 2016.
I graduated from the University of Manitoba as a Doctor of Dental Medicine (DMD) in 2020, where I was a recipient of the Dr. Jack King Memorial Scholarship (highest standing in Periodontology and Oral Diagnosis and Radiology, third year Dentistry), as well as the Dr. William Bloom prize (highest overall average in Oral Surgery, third year Dentistry), and the Class of '99 Dr. Lawrence Stockton Memorial Prize (for a graduating student in the International Dental Degree Program (IDDP), who demonstrated improvement in the field of restorative dentistry, good communication skills and qualities of a good role model..
Upon graduation I worked as a solo general dentist in Ste. Rose du Lac, Manitoba, where I served local communities and surrounding Indigenous Reservations. I am known for my amiable and jovial personality when attending to my patients. I have learned the act of patiently taking time to explain treatment plans to them, while allaying their fears and anxieties; thus providing a welcoming and relaxing experience for my patients.
I am married and we have been blessed with two children, and I like to spend my free time relaxing with my family, watching movies and National Geographic. I am an avid admirer of nature and a staunch fan of the Arsenal Soccer Club in Islington, London, England, and I like to play soccer with my friends and acquaintances. I have a passion for youth development and growth, and I am currently one of the leaders of a Christian youth group.