Insurance
At Scotsburn Dental Centre, we're here to help you figure out your dental care options, and that includes your insurance coverage. If you're considering dental treatment and unsure where to begin, give us a call to schedule a consultation.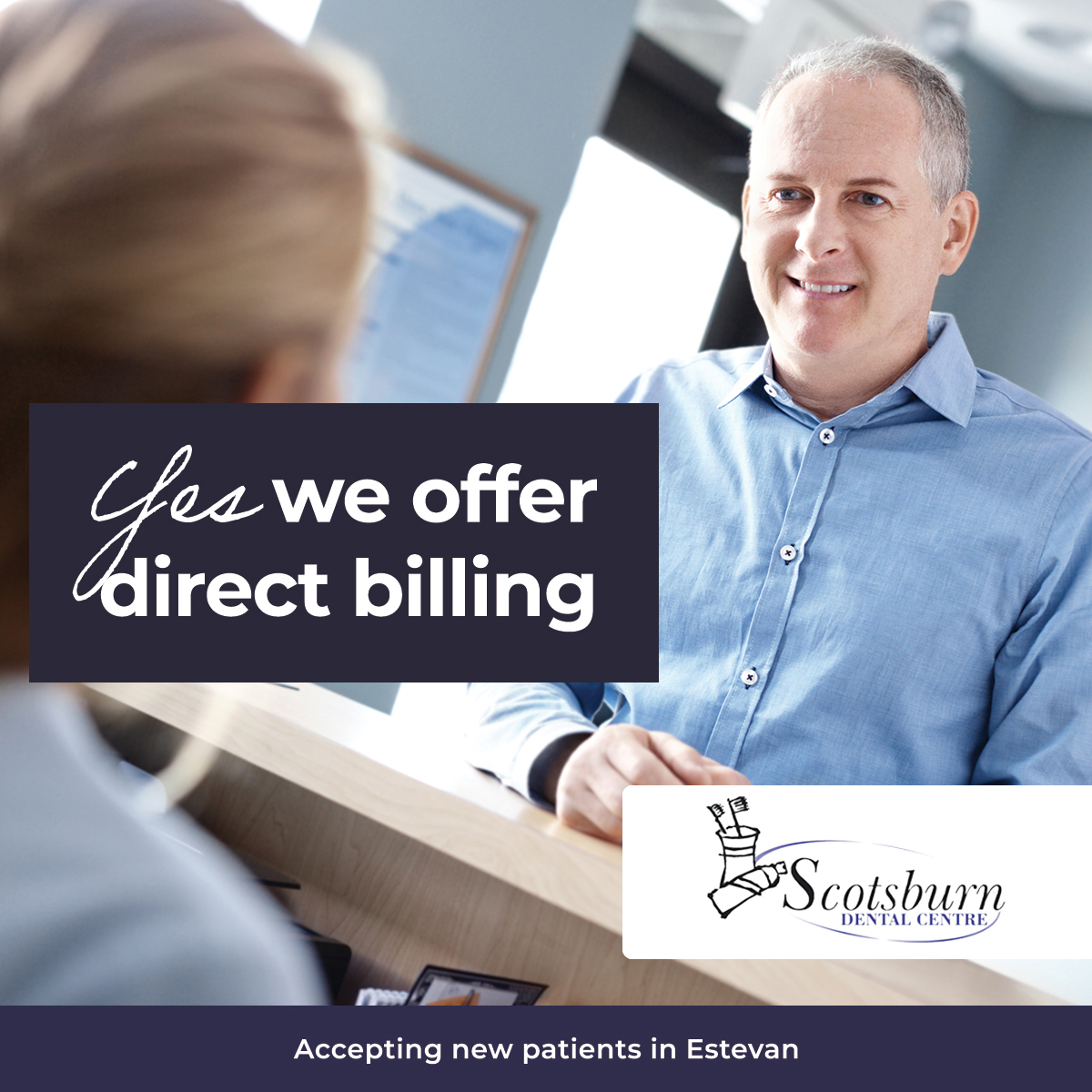 What Every Insured Patient Should Know
Patients should know the name of the person in your company who is in charge of employee benefits, name of the insurance carrier and their phone number.
When calling their insurance company, patients will likely be asked for:
Name of subscriber
Employee date of birth
SIN
Employer
Policy number
Division number
Certificate number
It's helpful to have this information ready before calling.
Questions Patients Should Ask Their Insurer
What is the annual maximum allowed per patient?
What is the anniversary date of the policy? (e.g. January 1st)
Is there an annual deductible? If yes, how much is it?
Dental benefits are paid on which year's Saskatchewan Dental Association fee schedule? (e.g. 1996 or 1999?)
How many units of scaling and/or root planing are covered per year?
Which codes are allowed for these services?
How many Recall appointments are allowed annually?
Example every 3 months, 6 months 9 months?
What percentage of coverage is allowed for the following:

Diagnostic services
Preventive services
Restorative services
Endodontic services
Periodontal services
Major treatment (e.g. crowns, bridges, dentures)
Treatment Planning / Consultations

What is the annual maximum for major treatment?
Is Endodontic and/or Periodontal treatment classified as basic or major treatment?
Insurance Terms You Should Be Aware Of
Annual Maximum — Most insurance companies have an annual maximum amount of coverage for each patient listed under the insurance policy. This coverage may be changed and patients may not be informed.
Deductible — The dollar amount the patient pays toward their treatment total before insurance coverage begins.
Eligibility — Eligibility determines who is covered under the insurance policy.
Exclusions — Many dental services and treatments that are clinically necessary are not covered by dental insurance. There exclusions are usually described in the patient's insurance booklet, but please be aware that more treatments are being excluded to reduce costs.
Co-Payment — This is the "Out of Pocket" part of the treatment fee that is not covered by dental insurance. The insurance company will pay a certain percentage of the treatment, but they very rarely cover 100%.
Dual Coverage — This is when both spouses are covered by different insurance plans. The insurance companies usually co-ordinate the benefits so that the patient does not receive more than 100% of the cost of the treatment.