Dr. Keith Wempe
Dr. Wempe is brought to work every day by the possibility of changing a patient's life, physically and mentally. The relief that comes with fixing a long-standing and painful dental problem can be life-changing for a patient. He also cares deeply about dental reconstruction and rejuvenation to help a patient boost their self confidence.
Image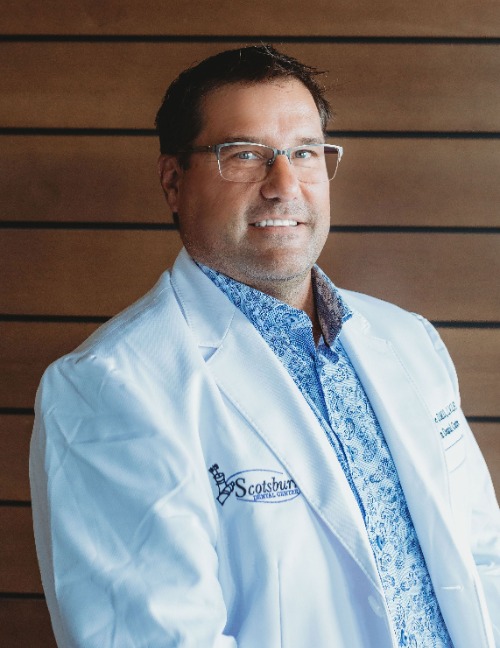 For Dr. Wempe, one of the most rewarding parts about being at the clinic in Estevan is his dynamic and energetic team. Together they're able to deliver a personal touch to each patient interaction. He takes pride in the care that his team members provide for every patient, from the first visit to chairside treatment and the final administrative concierge.
Comprehensive dentistry can seem daunting to some patients. Dr. Wempe and the rest of the staff make it an effortless, seamless process.
Dr. Wempe has undergraduate degrees in biochemistry and anatomy plus a Doctorate of Medical Dentistry from the University of Saskatchewan. He also has a fellowship with the Las Vegas Institute for Advanced Dental Studies.
Dr. Wempe believes continuous studying and expansion of his skills is essential. His postgraduate continuing education studies include implant and cosmetic dentistry, orthodontics, oral facial pain and TMJ disorders, sleep apnea, physiologic dentistry, and craniofacial alignment.
He currently holds or has held memberships with the; College of Dental Surgeons of Saskatchewan, Canadian Dental Association, International Association of Physiologic Aesthetics, International College of Craniomandibular Orthopedics, American Academy of Cosmetic Dentistry, American Academy of Implant Dentistry, and the International Association for Orthodontics.
Dr. Wempe is an Estevan native who married his high school sweetheart. They returned home in 1997 due to family ties in the area. They have two beautiful children and have had the privilege of being the caretaker for a series of Golden Retrievers, the most recent being Oliver.
When he's not at work, Dr. Wempe enjoys being at the lake in the summer and the Montana ski slopes in the winter. His children keep him busy throughout the year. He has also been involved with the local Scouts for the last 12 years.
He also has a general aviation license and enjoys anything that even remotely flies. As an accomplished cyclist, you can often find him on a bike as a member of the Regina Cycle Club.